Public Parks & Recreation C-
Categories
Categories
Public Facilities
Energy
The popularity of parks and outdoor recreation areas in the United States continues to grow, with over 140 million Americans making use of these facilities a part of their daily lives. These activities contribute $646 billion to the nation's economy, supporting 6.1 million jobs. Yet states and localities struggle to provide these benefits for parks amid flat and declining budgets, reporting an estimated $18.5 billion in unmet needs in 2011. The federal government is also facing a serious challenge as well since the National Park Service estimates its maintenance backlog at approximately $11 billion.
Take Action Today
We must commit today to make our vision of the future a reality –
an American infrastructure system that is the source of our prosperity.
---

Tell Your Legislator

Got a Question?

Sign Up for Updates

Be Social
Save America's Infrastructure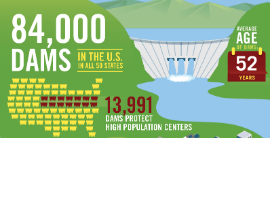 October 20, 2016
Earlier this week, the Center for American Progress(CAP) released a report on U.S. dams, Aging Dams and Clogged Rivers: An Infrastructure Plan for U.S. Waterways.