Virginia Key Facts: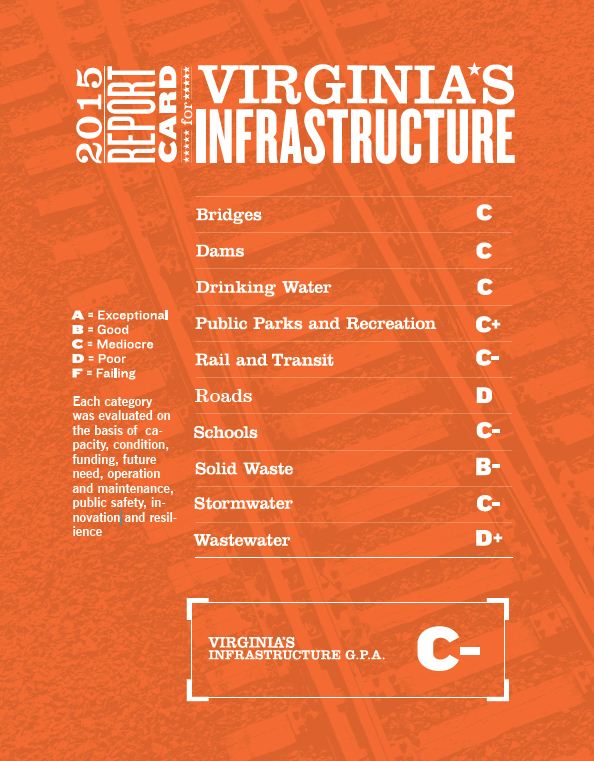 Virginia's infrastructure is aging and affects Virginia's quality of life, the safety of its citizens and its economic well-being. Using publicly available data, the Virginia Section of the American Society of Civil Engineers (ASCE) graded the condition of the state's infrastructure assets, identifying the need for critical improvements and funding. Grades were assigned in 13 primary category based on the reported condition of existing assets, expected service life, current functionality and level of service, future growth needs, and anticipated level of funding required to maintain Virginia's infrastructure.
Download the Report Card brochure.
How's Virginia's Infrastructure Doing?
Dams
Virginia's dam safety program has 10 Full-Time Employees that each oversee an average of 194 state regulated dams.
Virginia has 360 

high hazard dams

.
71% of the state regulated dams in Virginia have an

Emergency Action Plan

.
Virginia's state dam safety program has an annual budget of $819,949.
Drinking Water
Virginia has reported $6.7 billion in drinking water infrastructure needs over the next 20 years.
Hazardous Waste
Virginia has 31 sites on the National Priorities List.
Levees
Virginia has approximately 16 miles of levees according to the current FEMA Midterm Levee Inventory.
Wastewater
Virginia has reported $6.9 billion in wastewater infrastructure needs over the next 20 years.
Aviation
There are 66 public-use airports in Virginia.
Bridges
1,186 of the 13,765 bridges in Virginia (8.6 %) are considered structurally deficient.
2,402 of the 13,765 bridges in Virginia (17.4%) are considered functionally obsolete.
Virginia received $96.3 million from the Federal Highway Bridge Fund in FY2011.
Inland Waterways
Virginia has 670 miles of inland waterways, ranking it 17th in the nation.
Ports
Virginia's ports handled 79.8 million short tons of cargo in 2012, ranking it 10th in the nation.
Rail
Virginia has 9 freight railroads covering 3,214 miles across the state, ranking it 21th by mileage.
Roads
Virginia has 74,591 miles of public roads.
Virginia has 9,761 miles of major roads, 6% of which are in poor condition.
Driving on roads in need of repair costs Virginia motorists $1.8 billion a year in extra vehicle repairs and operating costs – $334.35 per motorist.
Transit
Virginia has 74 million annual unlinked passenger trips via transit systems – motor bus, heavy rail, light rail, and commuter rail.
Parks and Recreation
Virginia has reported an unmet need of $532.8 million for its parks system.
Schools
Public school districts in Virginia spent a total of $4.4 billion on capital outlays for school construction and acquisition of land and existing structures in fiscal years 2005–2008.
It is estimated that Virginia schools have $8.5 billion in infrastructure funding needs.
Energy
Virginia produces 3.720 gigawatt-hours of renewable energy every year, ranking it 26th.
Source:
2013 Report Card for America
'
s Infrastructure